In 2013, the California Service Center issued a Request for Evidence on almost every other Petition filed for L1B classification. This information is based on Statistics recently obtained in response to a FOIA request for FY2012 and 2013 from the USCIS. More startling is the fact that the rate of approval has dropped from 75% to just over 60% from 2012 to 2013. This clearly shows the Service exercising an arbitrariness that is worrisome, if not outright depressing.[1]
An almost 10% drop in initial filings is also evident from the statistics between the two years. Is the Service's policy of issuing RFEs on every other case (leading to delays) discouraging L-1B filing while artificially increasing pressure on the H-1B program? Is it time for the Service to issue new regulations defining "Specialized Knowledge" to simplify adjudication? These are questions that should be seriously debated when discussing the immigration system currently available to legitimate businesses trying to transfer qualified personnel to the United States.
Recently, I was approached for names of clients who could participate in a survey as part of a focus group. The survey was being organized by the Mathematica Policy Research and the Migration Policy Institute (MPI) as part of a study of the H-1B program funded by the research arm of the U.S. Immigration and Citizenship Services (USCIS). I was given to understand by the organizers of the survey that the purpose of the study was to help USCIS with the following:
(1) Obtain external stakeholder perspectives on the H-1B adjudication process and develop recommendations for adjustments to that process; and
(2) Better understand the dynamics of high-skilled labor markets in the United States to anticipate future demand and make program adjustments within their authority.
Survey participants were being asked for reasons for coming to the US on an H-1B in particular and generally for reasons for coming initially (if not on an H-1B); the survey also wanted to gather the following additional information:
a. how participants were recruited for the H-1B position;
b. the process of petitioning for H-1B status: smoothest and most challenging parts of the process;
c. Recommendations for improving the H-1B petition process.
d. Finally, plans to stay in the United States with extension of H-1B status or application for other temporary or permanent residency
Perhaps, it is time for the USCIS to conduct a survey of business leaders on how effective the L-1B program has been and whether it serves their purpose when dealing with an immediate need for specialized knowledge personnel in the U.S? I am sure the USCIS will gather quite a bit from the exercise leading to a more streamlined approach to L-1B adjudication.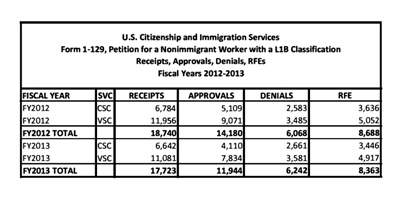 Extract Courtesy of the American Immigration Lawyers Association