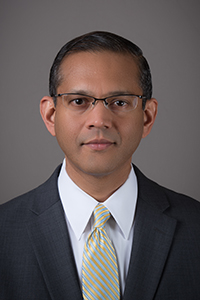 Admitted:  New York Supreme Court
U.S. District Court, Eastern District of New York
U.S. District Court, Southern District of New York
U.S. District Court, District of Connecticut
Law School:  LLM – The George Washington University
Publication:  Book Chapter Immigration in a Flat World, The "Insourcing" of American Jobs, ANALYZING THE IMPACT OF CURRENT TRENDS IN IMMIGRATION LAW, Pub. 2013 by Thomson Reuters/Aspatore
Languages:  Tamil, Telugu and Hindi
It is important to understand success in the US is almost entirely dependent on a successful immigration strategy. I have successfully shepherded hundreds of businesses over the years and know how important it is for key personnel to focus on the competitive market place without getting bogged down by the complex US immigration system. I work with an excellent team of highly dedicated and competent professionals who share my passion for service. I also have an extended network of professionals capable of coming together to negotiate and structure sophisticated mergers and acquisitions, real estate transactions, valuations, buyouts, software/IT services contracts, technology services agreements, etc. Over the years, I have been associated with clients who are publicly listed in the US and abroad, Fortune 500 companies, major Corporate Business Houses, Healthcare Conglomerates, Engineering Services Companies, Manufacturing leaders, Financial Services Companies, individual entrepreneurs and large institutional clients.
I have a passion for working with sportspersons and have successfully represented several outstanding and extraordinary tennis players and coaches.
I have worked with dozens of Outstanding Researchers and Professors, Musicians, Performers, Business Leaders and Investors in filing successful applications in the Employment Based First Preference Category.
My Immigration Story:
I am an immigrant in love with America and its people. To me, the United States represents, 'a shining city upon a hill' that to paraphrase a former President, is teeming with people of all kinds living in harmony and peace; a city with free ports humming with commerce and creativity, and if there had to be city walls, the walls had doors and the doors were open to anyone with the will and the heart to get here.
It took me several years to become a permanent resident. In fact, I came here as a student from Chennai, India. At the Consulate, after first granting me a Visa for 3 years, the Officer called me back…and changed it to a year! Being "stuck" in H status without being able to travel was not a pleasant experience. I come from a family of lawyers and my passion for the profession runs deep and I love what I do. When I talk to clients, I see and feel exactly what they're going through. I see the need for closure and how delays can contribute to indecision and frustration.
The experience for some can be downright harrowing and depressing. I know and understand. I work with a team of highly dedicated professionals who are passionate about what they do and can make your immigrant journey as painless as possible.
So, let me invite you to engage us in a conversation about your immigration needs and allow us to serve and be part of your immigrant journey.
Recent Transactional/Immigration Experience:
Represented the Engineering Services group of a $100 Billion Company from India that employs 500,000 employees worldwide with ongoing transfer of their Engineering Consultants to the US
Successfully structured the immigration of a team of professionals for an Insurance Technology Services company that was recently acquired by a publicly listed company in the US for $60 Million
Successfully represented the Director of R&D of the World's third largest consumer goods company as an Extraordinary Ability Alien
Represented the largest Healthcare system in Connecticut implement their annual Medical Residents Program by successfully filing Nonimmigrant Petitions for Foreign Medical Graduates
Represented the largest Healthcare system in NYC implement their annual Medical Residents Program by successfully filing Nonimmigrant Petitions for Foreign Medical Graduates
Represent the largest Indian Classical Music Festival in Cleveland – in its 40th year with over 8000 in attendance each year. Successfully process over 150+ artists each year for the past 17+ years
Assumed successful representation of an Outstanding Researcher in the field of Renewable Energy after his initial petition was denied
Successfully obtained Permanent Residency for a member of the Davis Cup squad and No.3 ranked player in SA
Successfully represented the transfer of a senior member of the Board of a $3 Billion Indian Automotive Supplier that employs in excess of 20,000 employees worldwide
Represent several IT Services companies in the US employing anywhere from 10-2000 employees.
Represented several IT Services companies during investigations/audits by the Department of Labor, USCIS, DHS and DOJ