By Yasmin Blackburn, Esq.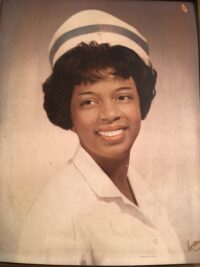 I think about the most important woman in my life. The woman who gave birth to me, the woman who raised me, the woman who was an excellent role model for me and our family. She always, always tried to do the right thing. She was a beautiful soul who exuded grace, elegance, and a charming genteel manner.
Kathleen A. Blackburn was my best friend, guide, confidant and most importantly, my mother!  While it may be easy to identify her by her chosen profession, nursing, it would not do justice to a human being who, above all else, was a caring soul with so much to give and share.  My mom came from a different time where you chose your profession and had the fortitude to stay with it throughout your career. Improving your skills, training the ones who came after you, and striving for excellence rather than recognition was most important to her.
At 14, Kathleen became a candy striper at Gorgas Hospital in Panama City. Gorgas was an enormous hospital built on an imposing hill by the French then modernized and managed through the US occupation of Panama. My mom was undaunted by the history and size of the building.  Instead, all she talked about was how much she learned from the experience. She developed a lifelong love for the field of nursing. She cherished the time she spent taking care of patients.
In the mid-60s, my mom came to the US.  She was only 16 years old.  Petite and dark complexioned, she was not readily welcomed by a country fraught with the racial tensions and of that period.  She was determined to earn her nursing degree and continue what she had left behind in Panama.  She eventually graduated from John Adams High School in Queens, NY.  This is significant because officials tried to hold her and the rest of my family back because they were coming from "a third world" country.  Undeterred, she faced the racism, prejudice and xenophobia head-on and stayed focused on completing her education on time.  A diminutive, quiet person, my mom was still a force of nature. This was particularly true when she absolutely wanted something.  She was determined to graduate and get into a good nursing program as quickly as possible.  After graduating, and while waiting to find out where she was admitted, my mom started working at the "Book of the Month Club" and in the diamond district.  She had worked for a little over 2 years before realizing that corporate America was not her calling.  She needed to go back to helping and caring for people.  She began applying for nursing schools once again.
My mom was accepted to Central Nursing School on Roosevelt Island, New York.  While there, she received her LPN license and began working at Cumberland Hospital in Brooklyn, NY.  She worked in her favorite unit, the newborn nursery, for many years before going back to school for her bachelor's degree from St. Joseph's College and her master's degree from Jersey City State University.  Along the way, my mom realized that although she loved working with newborns, the crack epidemic was decimating the African American community. For her bachelor's, she chose to major in psychiatry with a specialization in alcohol detox.  Later, she admitted to me the fear she felt some days when her clients were in throws of violent fits and rages sometimes from drugs, sometimes from psychiatric disorders and sometimes from a combination of both, but she was determined to help them in any way she could.  She had to be escorted to her car on many occasions after a family member or former patient threated her life, she even had a knife put to her throat in a dark parking lot by a former patient looking for drugs or money.  She talked her way out of that particularly dangerous situation and resolved to come back the next day and just park in a different location. And yet, she never once thought about leaving nursing.  For 35 years, many of them as a head nurse, my mom worked for the Health and Hospitals Corporation of New York before finally retiring as a Nursing Supervisor from the Psychiatry Unit.
While dedicated to her career, my mom was also extremely active in the Girl Scout Council of Greater New York.  Because of financial constraints, my mom could not participate in Girl Scouting in Panama.  But when the Council asked for volunteers to start a troop, I volunteered my mom and she jumped right in.  My mom and the other women who later became like surrogate mothers to me, started Troop 2279 at St. Therese of Liseux or Little Flower in Brooklyn, NY. At its height, the troop had over 100 girls of every age group.  It lasted for over 15 years.  During that time, our troop began a partnership with St. Patrick's Cathedral in New York City for a special mass to honor our Afro Latina Heritage.  Our troop took cruises and other amazing trips, while serving the community.  These may seem like small things, but for a troop of black and brown kids in the 1980s and 1990s it was significant. We were exposed to so much that we did not realize what was going on around us.  We were in a safe cocoon where we could grow, explore, and cultivate relationships that last to this day.  When I started my own Girl Scout Troop, my mom came to the meetings so often I asked her to become our medical and CPR person.  The leadership of Girl Scouts of Connecticut thought she lived in Connecticut rather than New York.  But that was my mom…. a caring soul who never stopped giving.
My mom began to develop a love of gardening once we moved into our home.  You would see my mom in her garden at all hours of the day and night.  She planted all year long and often told me plants are life.  It was not unusual to see her having an outright conversation with her plants.  I thought she was going a little crazy, but she said she talked to them the same way she talked to me.  She talked to me because she loved to see how my mind worked and she wanted to encourage me to feel comfortable expressing myself.  (I am sure she regretted that at some point 😊) She said plants were the same way.  They thrive and flourish from the energy surrounding them.  She gave them light, food, patient cultivation and words of love. In return, they grew big and beautiful.  To this day, I have a Christmas Cacti that my mom gave to me as a present.  Throughout the year, the plant is plain and green.  It is nice enough, but right at Christmas time it sprouts the most beautiful delicate, pink buds.  This is how I think of my mom…. she gave light, laughter, words of love and patient cultivation all my life.  The force of her love bloomed just at the right moments to spread happiness and good cheer all around. And I feel much like her plant, nurtured, happy and loved unconditionally!