Be it a Republican administration, or one led by Democrats, a common theme appears to be the raw deal handed to non immigrant professionals. While the Biden administration halted midnight regulations including scrapping a wage-based lottery for the H-1B CAP, it has refrained from revoking the ban on the entry of professionals. This ban, imposed by the Trump administration extends until March 31, 2021.
A recent article in Forbes argues that "The unemployment rate in computer and mathematical occupations remains well below pre-pandemic levels, making the current immigration ban on the entry of H-1B visa holders unsustainable." It also rightly references the successful litigation in NAM v. DHS, which stopped the June 2020 proclamation for many employers. The judge's opinion cited National Foundation for American Policy research on the low unemployment rate in computer occupations.
A Bureau of Labor Statistics News Release entitled, "The Employment Situation", dated January 2021 reported a dramatic increase in employment in professional and business services, which rose by 97,000, with temporary help services accounting for most of the gain (+81,000). Job growth also occurred in management and technical consulting services (+16,000), computer systems design and related services (+11,000), and scientific research and development services (+10,000). The Occupational Outlook Handbook (relied upon by the United States Citizenship and Immigration Services) states, employment in computer and information technology occupations is projected to grow 11 percent from 2019 to 2029, much faster than the average for all occupations. These occupations are projected to add about 531,200 new jobs. Demand for these workers will stem from greater emphasis on cloud computing, the collection and storage of big data, and information security. Information Security Analysts and Software Developer occupations are likely to see a 31% and 22% growth, respectively.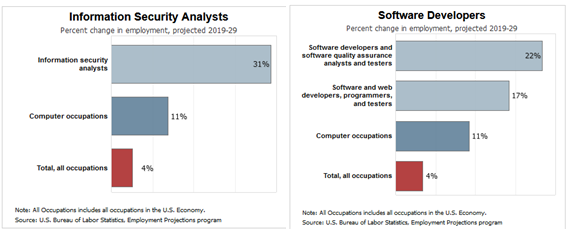 Embassies have slowly reopened and visas are being issued to applicants subject to certain exceptions. The Ban also does not apply to applicants who were in the US on the effective date of the Proclamation (the new restrictions imposed by the proclamation became effective at 12:01 a.m. EDT on Wednesday, June 24th ). Also exempt are those who had a valid visa, or those who held a valid travel document on the date of the proclamation. However, the non-resumption of visas for majority of H and L non immigrants, has been severely limiting and hurts several of our clients. One client, for instance, reported a full bench from the previous H-1B season waiting to travel to the U.S. They are limiting the number of H-1Bs they plan to file this year because they are not sure of the Biden administration's plans to lift the ban.
The H-1B registration process runs from March 9 to March 25 this year. Employers seeking to hire overseas talent would be flying blind because of the lack of guidance. In one of its first actions, the Biden administration put out a Memorandum that seeks to make evidence-based decisions guided by the best available science and data. The Memorandum goes on to state: Scientific and technological information, data, and evidence are central to the development and iterative improvement of sound policies, and to the delivery of equitable programs, across every area of government. Scientific findings should never be distorted or influenced by political considerations.
Hopefully, this sentiment will lead to the lifting of the ban on professional visas before the start of H-1B CAP registration next week.